Gulberg is an exclusive residential community in Lahore that needs no outline. There are elegant skyscrapers, luxurious residences, upscale business centers, green spaces, and an eclectic mix of eateries in the posh neighborhood. The city's dynamic urban landscape and thriving real estate market make it an ideal location for innovative developments. One is Madison Square - a mixed-use building that aims to redefine the trendy live-work-play lifestyle.
Its thoughtfully curated inventory and exceptional amenities address the rising demand in Gulberg for hotel apartments and commercial shops. The project is a venture of Enaara Developers, a reliable name in Lahore's property development.
Urban Luxury Meets Greek Elegance at Madison Square
This luxuriously furnished residential and commercial hub commands a prime location in Gulberg, Lahore, and is designed with distinctive style and impeccable attention to detail. This 25-storey multipurpose vertical development creates premium spaces to meet its residents' ever-changing needs.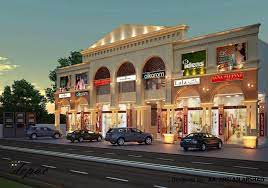 There are six kanals available for the grand-scale project, which has an impressive facade inspired by the finest elements of ancient Greek architecture. Several renowned international and domestic brands are represented on the lower floors of this high-rise. The five-level mall will feature futuristic capsule lifts, advanced escalators, and other amenities.
At the same time, the building's higher floors will house hotel apartments with full automation that will serve as a vibrant oasis for residents, inspiring tranquility and creativity. The project includes an infinity pool, a 300-foot-high restaurant on the roof, and much more.
Everything You Need Is Just Steps Away
In Gulberg III, Madison Square will be located on Mehmood Kasuri Road in the heart of Lahore. A wide network of thoroughfares connects the project to other parts of the city because of its strategic location. It is also located near some of the city's most renowned landmarks and facilities.
Here are some highlights of the high-rise development's location:
· Near Al Fateh Mall
· It is located right next to Hussain Chowk.
· A two-minute drive from Liberty Market, Main Boulevard, and Gaddafi Stadium
· A 15-minute drive from Allama Iqbal International Airport
· In the vicinity of the central business district
Life's Experiences Reimagined by Inspired Amenities
A top-of-the-line amenity selection puts Madison Square in a class by itself. This remarkable complex caters to those seeking perfection in every aspect of their lives, from a majestic sky-high restaurant to a fully equipped fitness facility and spa.
In Gulberg, Lahore, Madison Square offers several outstanding amenities:
· Safe and secure environment
· Round-the-clock concierge
· Centrally air-conditioned
· Fully automated residences
· High-speed elevators
· Infinity pool
· Business centre
· Cigar lounge
· Ballroom
· Gym and spa
· Rooftop restaurant
· Food court
· Prayer area
· Uninterrupted supply of electricity
· 24/7 emergency maintenance
· Limo service
· Four-floor car parking
· Electric car charging stations
Invest in Madison Square - a renowned commercial and residential development
· Due to the booming real estate market, investing in Gulberg is an excellent opportunity.
· Modern hotel apartments and commercial shops are in high demand in Lahore.
· With its graceful elevation and exceptional amenities, the skyscraper will surely be a success.
· In the coming years, there will be high capital gains.
· Lahore Development Authority (LDA) approves the project.
For more, keep connected and updated with www.SabzProperty.com