A major project to improve public transport in Karachi is the Red Line BRT. It's part of Trans-Karachi (also known as Karachi Breeze), an extensive mass transit system. The Green Line and Orange Line buses started operating in 2022. Now that the Red Line project is ready for launch, the provincial government is eager to expedite construction.
Karachi's new red line bus route:
According to official details, the Red Line Metrobus in Karachi will run along two corridors. During the bus service route, there will be no traffic. Twenty-four bus stops will be located around the city, passing through 13 major intersections. The project's infrastructure includes ten overhead bridges and seven underpasses.
Karachi red line bus route length:
There is a 26-km long signal-free corridor for the Red Line BRT service. Numaish Chowrangi and Malir Halt will be the first stops on the Red Line bus service. At this point, it will intersect with the Green Line BRT system. Following are the areas, localities, and landmarks where the Red Line BRT will run in Karachi:
· Model Colony
· Safoora Goth
· King Cottages
· Met Office
· NED University
· Safari Park
· Nipa Chowrangi
· Federal Urdu University
· Masjid Baitul Mukarram
· Civic Centre
· Askari Park
· Dawood University
· Society Office
· Numaish Chowrangi
Red line construction traffic plans:
To devise alternative traffic routes for vehicles and pedestrians, KMC officials met on a higher level. During construction, these measures would reduce traffic congestion.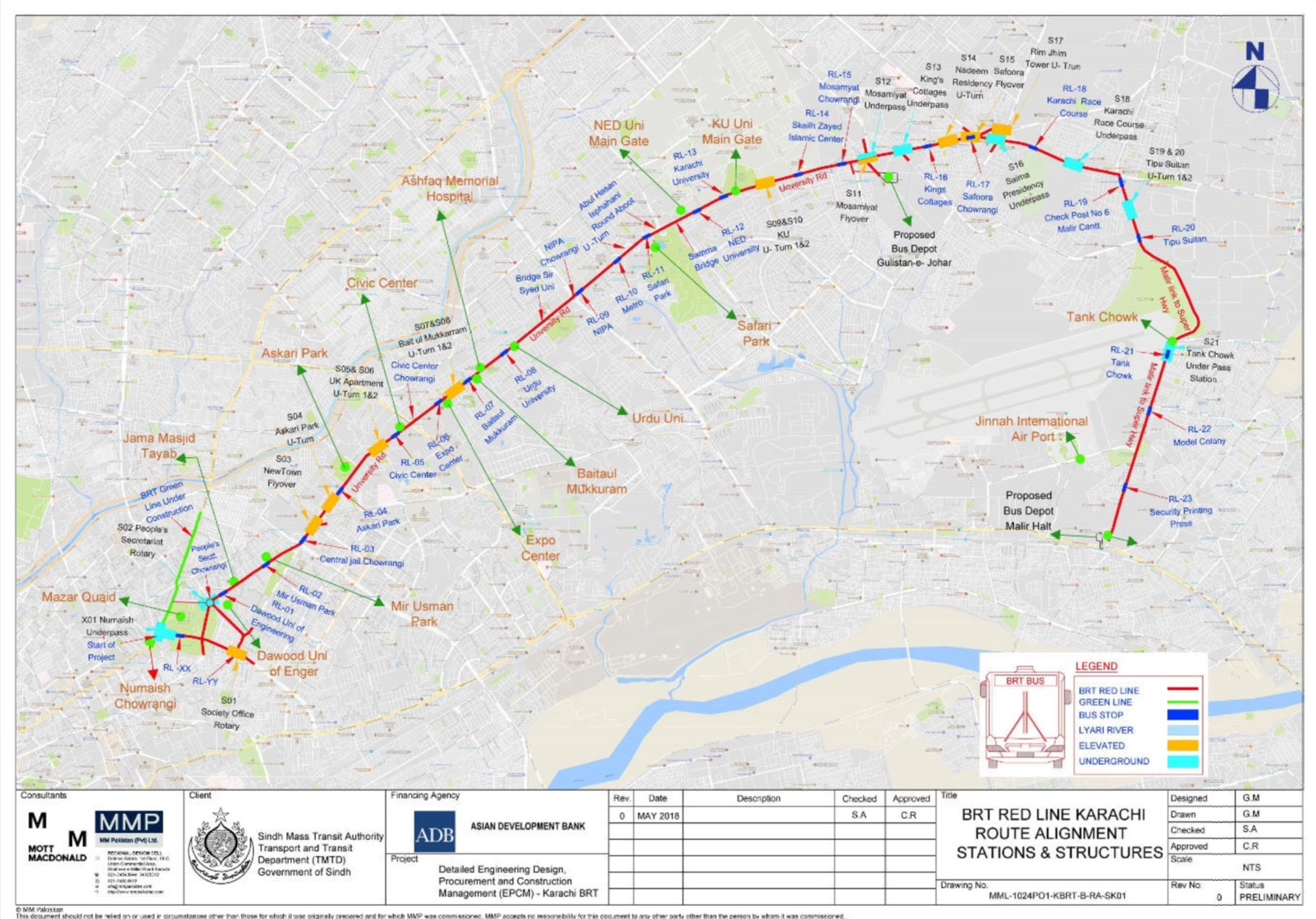 Karachi BRT Construction update:
During the first half of 2022, work on this mass transportation project progressed rapidly. There are many construction sites along the two-way University Road. In preparation for construction, the engineers are on-site testing the soil and pilings.
There are two phases to the construction of the Red Line BRT. Malir to Mosmiyat is covered in the first phase, and Mosmiyat to Tower is covered in the second phase. College and university students will benefit greatly from the bus route once it is completed. Many educational institutions along the University Road, including KU, NED, and Urdu University.
Karachi red line bus service estimated completion date:
In June 2022, the authorities began developing the Red Line. The project is expected to be operational in two to three years. A metro bus system with this length would be one of Pakistan's longest.
Karachi red line bus number:
It is planned to have 250 low-emission buses in its fleet for the BRT system. Biogas will power these vehicles, according to the latest updates. This is a particular type of fuel made from cow dung. The project will change Karachi's transport landscape if everything goes as planned.