Madison Square is undoubtedly a multipurpose complex that rises from prime land in the heart of Gulberg. Both residential and commercial investors can take advantage of the project's vibrant mix of excellent real estate options. Enaara Developers is expected to build another vertical development soon.
Are you considering investing in Madison Square? This is the right place for you. There is a lot to learn about this highly awaited urban landmark in Lahore through this blog, which sheds light on all its remarkable features and extraordinary scope.
A Billion Dollar multipurpose development
A luxuriant urban experience is ensured with Madison Square's high-end lifestyle features. On a 6-Kanal lot in a prime location, it will feature state-of-the-art retail outlets and premium hotel suites managed by Royal Swiss.
This building is divided into four basements, a lower ground floor, an upper ground floor, and 21 upper stories surrounded by a striking facade that will become the crowning jewel of Gulberg.
A Landmark with a superb location
Madison Square's unbeatable location, combined with Gulberg's rewarding potential, makes it an ideal place to invest. Its strategic location in Gulberg III puts it within easy reach of everything thanks to its direct access to Mehmood Kasuri Road. A stone's throw from Hussain Chowk, the vertical complex is opposite Fateh Mall. Liberty Market, Main Boulevard, and Gaddafi Stadium are within distance of Madison Square.
The project is also surrounded by a well-established road network, allowing you to reach Allama Iqbal International Airport in just 15 minutes due to its proximity to Lahore's Central Business District.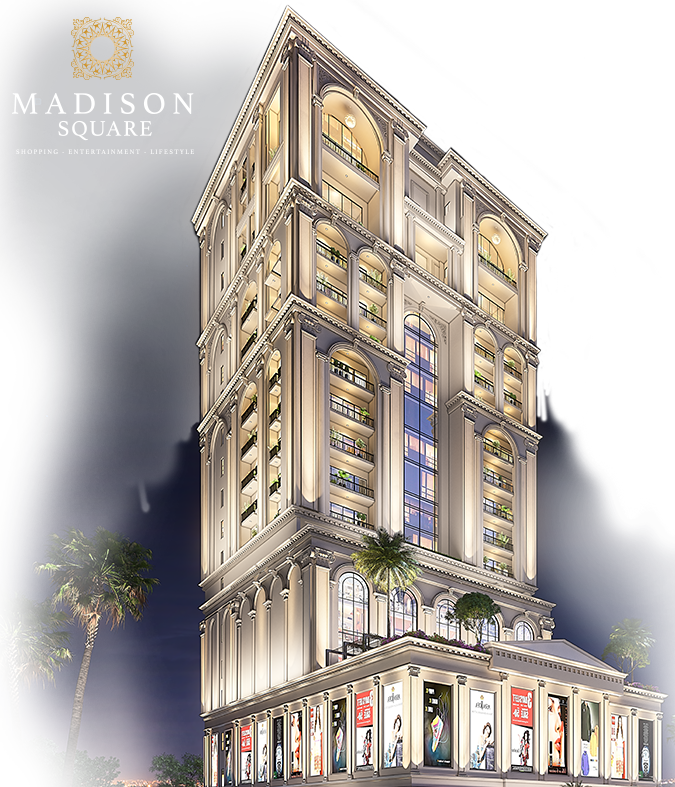 High end features for an elevated lifestyle
Featuring a collection of well-crafted hotel suites by Royal Swiss and world-class commercial outlets, Madison Square is something special. An array of notable facilities and amenities complement the project's top-tier urban arrangements.
A health club, jacuzzi, sauna, infinity pool, sports & recreation areas, differently abled amenities, free parking, valet service, and plenty of other amenities are available at Madison Square.
A High return investment opportunity
Madison Square has become a roaring success because of its unbeatable perks. Investors and genuine buyers are attracted to the multipurpose development. An LDA-approved project allows investors to remain anonymous without disclosing their sources of income because it is registered with the FBR.
Due to such attractive investment opportunities, Gulberg's real estate value will rise to new heights. Hotel apartments and retail spaces are in high demand in the region, ensuring impressive capital gains shortly.
Do You want to have your dream property? Don't wait! Book it now!
Take advantage of an investment opportunity like Madison Square in Lahore. Are you ready to invest now? It's easy. Please let us know if you have any concerns.
For more, keep connected and updated with www.SabzProperty.com